Press Release
October 3, 2013
The first stage of the daylighting lab of UAEU is complete with the Orange heliodon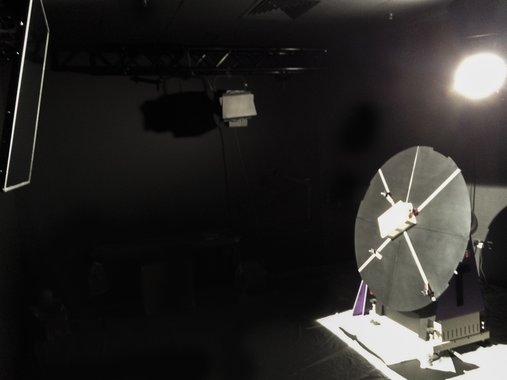 The installation of Orange Heliodon and its accessories has been completed at the Daylighting Laboratory of UAEU (Al Ain).
Orange Lab Heliodon version III was accomplished with support from a second grant that provided advanced solutions for acquiring the data relative to the simulation. Leveraging our rich our expertise in the field of architectural endoscopy at the Laboratory of Urban Simulation at Politecnico di Milano headed by Professor Fausto Curti and Professor Peter Bosselmann (UC Berkeley), it was possible to integrate the heliodon with several micro cameras and endoscopic solutions. All components are integrated into a graphical user interface running on Windows 7.
Orange Heliodon is a robotic heliodon with a fixed light source. It is a device that is ideal for research and development due to its high repeatability and simulation accuracy as well as the powerful software tools that facilitates easy customization in every major languages (Python and C# are the interfaces and examples provided).
Simulating the play of sun-light with the materials and the forms of any spaces at any position or orientation can be done easily in just a few seconds.
The version installed (LAB) can also move fluently between two points to accurately simulate the path of the sun in the sky and can capture a movie of the shadow motion in real time.
Using the included micro cameras provided and coupling the endoscopic solutions with micro camera (1.4Mpx and 5Mpx) and a Nikon 800 camera (36Mpx) enable imaging at the highest resolution and capturing videos of the simulations.
The Orange heliodon with its sturdy supporting table accommodates heavy (max 17kg) and large (hemisphere of diameter 1.4m) models.
Giulio Podesta of Nitter says: We are very proud of the first stage of the daylighting laboratory and we are working with the support of the wonderful Professor Khaled Al Sallal and his, very knowledgeable, assistant Architect Maitha Bin Dalmouk to the realization of the second stage: a full dome LED artificial sky.
The daylighting laboratory, designed by Cox Architecture and Woods Bagot, is located inside the new campus of the UAEU.
The United Arab Emirates University (UAEU) is the first and most state-of-the-art national university in the United Arab Emirates. Founded in 1976 by the late Sheikh Zayed Bin Sultan Al Nahyan, UAEU aspires to become a leading research institution and currently enrolls approximately 14,000 Emirati and international students. In its drive to achieve international research stature, UAEU works with its partners in industry to provide robust research solutions to challenges facing the region, the nation, and the world. The University has established research centers of strategic importance that are advancing knowledge in critical areas ranging from the environmental sciences (e.g., water resources) to the medical sciences (e.g., cancer treatments).